Prof. Dr.-Ing.
Martin
Gaedke
Personal Information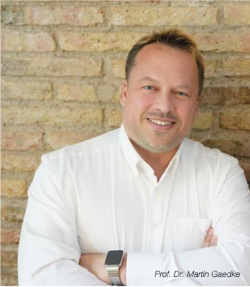 Twitter-Updates
Request a Meeting
Some Hotspots
About Prof. Gaedke
Prof. Dr.-Ing. Martin Gaedke is Dean of the Department of Computer Science at the Chemnitz University of Technology (TUC), where he is also full professor and head of the chair for Distributed and Self-organizing Systems (VSR).
His research focuses on advancing the way humans, services, and things collaborate in order to enrich lives in the networked and hyper-connected society. To achieve this long-term intent, he is working on Web Engineering, Service Engineering, and trustworthy Service-based Systems Engineering to address needs of future distributed hyper-connected collaborative work environments. Within his research areas his priorities are currently Linked Enterprise Data Services, e-Health Software and Services, trustworthy Distributed User Interfaces, distributed collaborative work environments.
He has been a scientific reviewer for the European Commission (FP7), European Research Council (ERC), and a number of National Science Foundations, e.g. Canadian NSERC, ETAg of Estonian Research Council, Swiss NSF, Marsden Fund of the Royal Society of New Zealand. He was a member of FP7 FAST Advisory Expert Group and NMC's Horizon.JISC Advisory Board. He serves as invited expert for W3C's WebID and Social Web, and on the scientific advisory board of a German SME.
Throughout his career he was Guest Professor at Vienna University of Technology, Lecturer at TU Braunschweig, Senior Scientist at the Karlsruhe Institute of Technology (KIT) developing the integrated Service-Oriented Architecture (iSOA), and a researcher at the Telecooperation Office leading large-scale industry projects for Microsoft, Microsoft Research, Daimler-Benz, and Hewlett-Packard, such as HP's enterprise-wide service-oriented procurement system. Martin Gaedke obtained a Master's degree in computer science in 1997 and a doctoral degree in engineering in 2000, both from the University of Karlsruhe, Germany.
Publications