Prof. Dr.-Ing.
Martin
Gaedke
Personal Information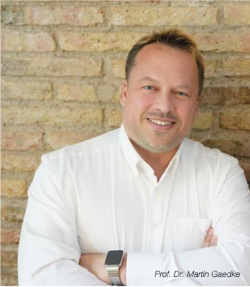 Some Hotspots
About Prof. Gaedke
His research focuses on advancing the way people, software, and things collaborate in order to enrich life in the hyper-connected society. To achieve this long-term intent, he is working on Web Engineering, knowledge engineering, AI-supported distributed hypermedia-systems, end user development, and smart Web of Things systems. He has published his work in international conferences, journals, and books and was co-author of the first paper on Web Engineering at the WWW6 conference in 1997. In 2020, Gaedke was ranked 39th worldwide in the Knowledge Engineering category, and was thus awarded with the "AI 2000 Most Influential Scholars Honorable Mention" and honored being a member of the AI 2000 Most Influential Scholar Annual List from the AMiner online service for academic analysis, which names 2,000 of the world's top-cited research scholars from the fields of artificial intelligence over the next ten years.
Throughout his career he was Guest Professor at Vienna University of Technology, Lecturer at TU Braunschweig, Senior Scientist at the Karlsruhe Institute of Technology (KIT), and a researcher at the Telecooperation Office leading industry projects with Microsoft, Microsoft Research, Daimler-Benz, Hewlett-Packard, and many SMEs. Martin Gaedke obtained a Master's degree in computer science in 1997 and a doctoral degree in engineering in 2000, both from the University of Karlsruhe, Germany.
Publications