Dr.-Ing.
Alexey
Tschudnowsky
(former Olexiy Chudnovskyy)
Personal Information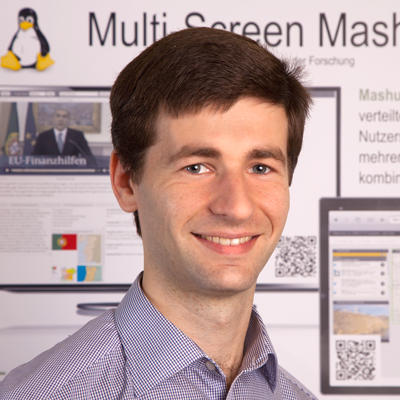 Short CV
Alexey Tschudnowsky is a research assistant and a PhD student at the Distributed and Self-organizing Systems Group in Technische Universität Chemnitz. He has a 5 year experience of international research and teaching in the area of Software and Web Engineering, Information Security and End-User Development. Alexey has advised more than 50 thesis projects and has published 20 scientific papers in international conferences. He is a skilled presenter and a talanted educator. Alexey has strong skills in development of Web applications, Web services, APIs, Test-Driven Development (TDD), Web architectures and security protocols. He fluently speaks russian, german and english and gladly applies his technical, communication and leadership skills in projects with international partners.
Research Interests and Expertise
Component-based Web application Development
Service-Oriented Architectures (SOA)
Design of RESTful Web Services and WebAPIs
Service Composition and Orchestration
Application and Data Integration
Models and Architectures of Web Applications
End User Development of Web Applications
Linked Data and Semantic Web
Identity, Security and Federation on the Web
Past Projects
Martin Gaedke, et al.
Type of project: European Seventh Framework Programme (FP7) Project
Andreas Heil, Martin Gaedke, Olexiy Chudnovskyy, et al.
Type of project: VSR
Co-Reviewer for Conferences
ECIS 2013: The 21st European Conference on Information Systems
CCNC 2013: The 10th Anual IEEE Consumer Communications and Networking Conference
ECOOP 2013: The European Conference on Object-Oriented Programming
ICWE 2012: The 12th International Conference on Web Engineering
CASoN 2012: The Fourth International Conference on Computational Aspects of Social Networks
WWW/INTERNET 2011: The IADIS International Conference
PC Member
Publications
Developments
Current Student Projects
Advised Projects
Advised Courses
Tutorial "Introduction into Computer Science"
Tutorial "Algorithms and Data Structures"
Tutorial "Theoretical Computer Science"
Tutorial "Protocols of Distributed Systems"
Tutorial "Security of Distributed Systems"
Seminar "Web Engineering"
Practical Course "Web Engineering"