Diplomarbeit

Eine gemeinsame Sprache finden: Unterstützung der Datentransformation bei Inter-Widget-Kommunikation
Completion
2013/09
Research Area
Students

Advisers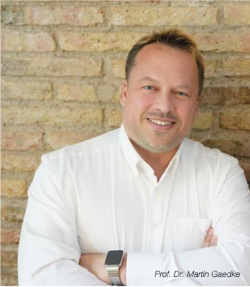 Description
Widgets are reusable applications based on web technologies, which are supposed to create entirely new applications, so called User Interface Mashups. With the use of suitable tools, even an end-user should be in the position to create such applications. In order to create meaningful applications, a successful data transformation between widgets is seen as an essential feature. Unfortunately the communication between logical matching widgets cannot be guaranteed due to the huge number of independent widget developers. This fact limits the reuse of widgets and their combination with others to create useful applications. The main goal of this project is to analyze approaches, which try to establish compatibility between multiple independent components. Related projects from the areas of End User Development (EUD) and Enterprise Application Integration (EAI) will be considered while searching for an appropriate solution. As a result, a prototype should be developed, that enables data transformation for end users with none or little programming experience and allows reusing of already defined component-mappings.
Description (German)
Widgets, die wiederverwendbaren Minianwendungen auf Basis von Web-Technologien, sollen zusammen mit Kompositions-Werkzeugen, die Erstellung neuartiger Applikationen - der User Interface Mashups - direkt durch den Endnutzer ermöglichen. Dabei wird ein erfolgreicher Datenaustausch unter den Komponenten - die Inter-Widget-Kommunikation - als entscheidendes Merkmal für bedeutungsvolle Applikationen angesehen. Aufgrund der Vielzahl von Widget-Entwicklern ist jedoch eine Kompatibilität zweier logisch zusammenpassender Widgets nur selten gegeben. Die fehlende Interoperabilität der Widgets hindert somit deren Wiederverwendbarkeit und schränkt die Möglichkeiten der Kombination mit anderen Widgets extrem ein. Das Ziel der Arbeit ist es Ansätze zur Herstellung der Datenkompatibilität zwischen mehreren unabhängigen Komponenten zu untersuchen. Dabei soll der Fokus auf Werkzeugen liegen, die für Abbildungen zwischen Datenformaten keine oder nur geringe Programmierkenntnisse erfordern und eine Wiederverwendung von bereits definierten Abbildungen ermöglichen. Die Analyse soll verwandte Arbeiten aus den Themengebieten End User Development (EUD) sowie Enterprise Application Integration (EAI) miteinschließen. Eine prototypische Implementierung soll anschließend den Einsatz eines Datentransformationswerkzeugs im Kontext der Inter-Widget-Kommunikation evaluieren.