VSR Educational courses for SS 2018 online
2018-03-16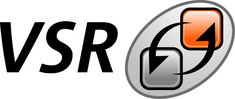 We have just updated the section with information on our educational courses in the summer semester 2018 at Chemnitz University of Technolgy.
Be aware, that the first lecture will be held on April 10, 2018. There will not be a course in the first week of April. Tutorials will start later in the semester, which will be announced in the lecture and on our website separately.
Especially pay attention, that you have to subscribe for our Seminars in advance in order to participate.