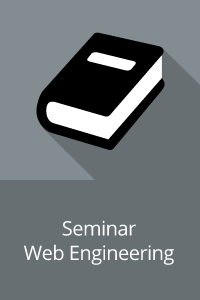 Seminar Web Engineering für Master-Studenten (WS2012/2013)
Willkommen auf der gemeinsamen Homepage Seminars Web Engineering für Master-Studenten. Auf dieser Seite finden Sie alle notwendigen Informationen zur Veranstaltung, einschließlich Links zu den Themen und zum Seminar allgemein.

Im interdisziplinären Forschungsgebiet Web Engineering werden Ansätze für ein methodisches Konstruieren von Web-basierten Anwendungen und verteilten Systemen sowie für deren kontinuierliche Weiterentwicklung (Evolution) entwickelt. So beschäftigt man sich im Web Engineering beispielsweise mit der Entwicklung von interoperablen Web Services, der Implementierung von Web-Portalen mittels Service-orientierter Architekturen (SOA), barrierefreier Benutzerschnittstellen bis hin zu exotischen Web-basierten Anwendungen, die über das Telefon sprachgesteuert werden oder sich über Fernseher und Autoradio darstellen.

Im Seminar finden in diesem Semester Vorträge zum Thema "Current Trends in Web Engineering" statt.
Folgende Leistungen sind von jedem Seminarteilnehmer zu erbringen:
Es ist ein Vortrag zu dem erhaltenen Thema auszuarbeiten. Die Vorträge werden im Block an einem "Seminar-Tag" gehalten; der Termin hierzu wird beim ersten Treffen vereinbart.
Zusätzlich zum Vortrag wird ein Poster mit der Zusammenfassung des Themas erwartet.
Seminarleitung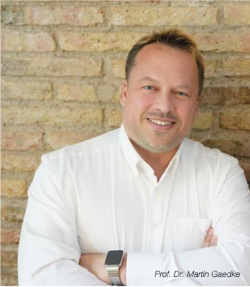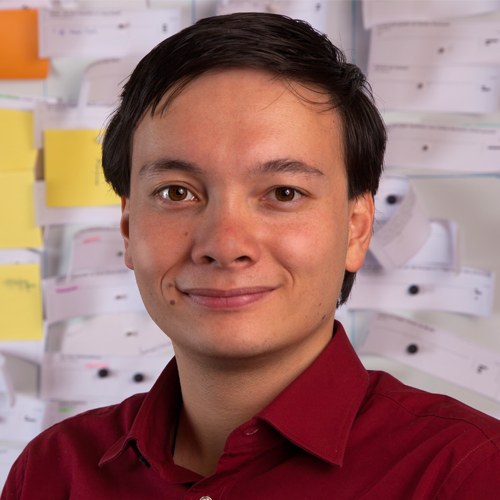 Zielgruppe
Das Seminar wird für Studenten folgender Studiengänge angeboten (die jeweiligen Voraussetzungen sind der entsprechenden Studienordnung zu entnehmen):

Master Data & Web Engineering (Seminar/Forschnungsseminar)
High Performance & Cloud Computing (Forschungsseminar)
Master Informatik für Geistes- und Sozialwissenschaftler (Proseminar/Forschungsseminar)
Master Informatik (Forschungsseminar)
Themen und Ansprechpartner
Nr.
PS/S/FS
Thema
Inhalte
Bearbeiter
Betreuer
Materialien
Präsentation
Poster
Teil I - Web Application Development
01
Enterprise Integration Patterns
P.P.
Olexiy Tschudnowsky
Materialien
Präsentation
Poster
Teil II - From unstructured to structured Data
03
Natural Language Processing

Theory and Practice
Application in Web
Tools

J.B.
Olexiy Tschudnowsky
Materialien
Präsentation
Poster
Teil III - Digital Identity and Privacy
04
Digital Signature Concepts for Structured Data

Magic Signatures
XML Signatures
Signature for Semantic Knowledge Bases

M.F.
Stefan Wild
Materialien
Präsentation
Poster
05
Multi-factor authentication

Approaches / Idea
Overview
Implementation
Support and Use
Demonstration

S.M.
Stefan Wild
Materialien
Präsentation
Poster
06
Evaluation of Access Control Concepts and Technologies

Idea
Overview
Implementation
Comparison / Evaluation
Support and Use
Demonstration

M.A.B.
Stefan Wild
Materialien
Präsentation
Poster
Eröffnungstreffen
Das erste Treffen findet am Freitag, 19. Oktober 2012 15:30 im Raum 1/368 statt. Das erste Treffen fand am 19. Oktober 2012 statt.
Die Folien des ersten Treffen sind hier verfügbar.
Zwischenvortrag
Die Zwischenvorträge finden am Dienstag, 13. November 2012 15:30 im Raum 1/336 statt.
Der Zwischenvortrag dient dazu, dass die Studenten einen kleinen Überblick über das ausgewählte Thema geben.
Dazu zählen folgende Punkte:
Was verbirgt sich hinter dem Thema?
Welche Literaturquellen wurden bis jetzt recherchiert?
Welche Idee für eine Demo gibt es?
Der Vortrag sollte max. 3 Folien umfassen (ohne Titelfolie) und max. 5 Minuten dauern. Anschließend gibt es eine kurze Fragerunde und ggf. Bemerkungen
Tipps für den Vortrag
Als Daumenregel lassen sich pro Folie 2 Minuten ansetzen. Wesentlich mehr Folien pro Minute lassen sich vom Zuhörer nur schwer aufnehmen.
Vor dem Vortrag sollte man sich überlegen: Was ich die Mainmessage meines Vortrages? Was sollen sich die Zuhörer merken?
Aufbauend auf diese Überlegungen sollte der Vortrag gestaltet sein.
Auf der Seite von Garry Reynolds gibt es sehr viele gute Hinweise: http://www.garrreynolds.com/Presentation/
Tipps für das Poster
Die Poster sollen einen Überblick über die wesentlichen Aspekte Ihres Themas präsentieren.
Eine gute Einführung in wissenschaftliche Poster bietet die Präsentation Scientific Poster Design der Cornell University.
Seminartage
Das Seminar fand am Freitag, 07. Dezember von 09:30 bis 14:00 Uhr sowie am Montag, 10. Dezember von 13:15 bis 18:00 Uhr statt.
Die Folien der Seminartage sind hier verfügbar.

Poster
Die Poster werden in A3 Größe erstellt und als PDF abgegeben.
Abgabefrist für die Poster ist der 21. Januar 2013
Ihre Poster laden Sie bitte in den OPAL Ordner Poster hoch.