Our Culture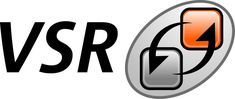 »bringing collaboration to the next level«
Our Mission
The mission of VSR is to advance knowledge in distributed Web-based collaboration, and to ensure the delivery of wildly exciting services and products in research and education on a national, European and international level while maintaining our uncompromising team-spirit.
Our Operations
VSR is operated by team spirit to establish a premier talent space for wildly exciting research, education, and innovation in distributed Web-based collaboration.
Our working style is driven by
applying transparent, proactive and agile business principles,
delivering in continues evolutionary steps, and
providing a premier space for skilled motivated employees and students, who want to fully develop their talents and make the world a better place by shaping the future.
VSR is shaping the future by focusing its endeavors on the Web and is driven by collective intelligence, evolution, and self-organization as principles for building distributed systems that increase the efficiency and effectiveness of people and businesses.
Our Vision
VSR will be...
an internationally respected leader in research solutions supporting distributed collaboration.
a space for innovation, successful customer projects, non-linear thinking, and talents in all VSR's research areas.
a model of excellence for the Faculty of Computer Science at the Chemnitz University of Technology in producing research results and executing funded research projects.
Our Mantra
»bringing collaboration to the next level«
Our Team Spirit
We at VSR, as a team and as individuals, we value, believe, and stand for:
WIN-WIN
People who seek mutual benefit in all interactions.
Future-Obsessed
People who have the desire for creating a better future as an expression of lifestyle.
Remarkability
People who are thinking creative and non-linear to make a difference.
Evolution
People who are brave enough for not doing the thing right in search for doing the right thing.
Eat Your Own Dogfood
People who practice what they preach.